The weather is getting cooler and you can no longer spend your whole weekend stretched out on the sand or sunbaking next to the pool. While that may be a little bit sad, it also means you can fill your weekends will a whole set of other fun activities during autumn. There's always something to see or do in Sydney, but autumn is a season of real excitement with plenty of festivals, pop-ups and events, as well as enough sunshine to still enjoy the outdoors. Here are the top things to do this autumn in Sydney.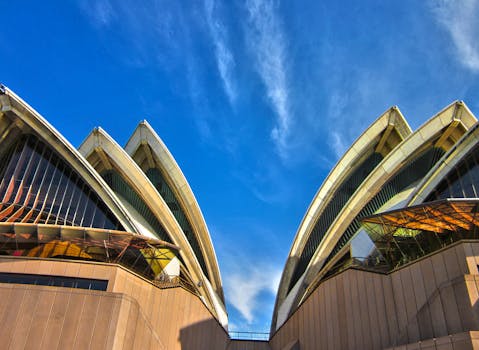 Sunrise On The Steps, Sydney Opera House
Start your day right and make the most of the sunny mornings but doing some sunrise yoga and exercise classes. The best bit about these particular classes is the location - on the steps of the beautiful Sydney Opera House with glittering Sydney Harbour and the Botanic Gardens as your backdrop. How's that for a view to wake up to? The program runs four days a week (Tuesdays-Fridays) for ten weeks from March to May. Wednesdays and Fridays are Yoga and Tuesdays and Thursdays are dedicated to circuit classes, focusing on cardio and strength. The classes go for an hour, starting at 7 am so you can catch the sun rising over the water!
Get Blys at Home
On those cold Autumn days when you don't feel like leaving the house, you can stay at home and get an on-demand massage.
Blys
is one of Australia's first mobile on-demand massage services, bringing a professional therapist to your house any time of day to provide you with a range of massage types.
Luna Park Rooftop Cinema
If you missed out on attending one of the outdoor cinemas over summer, don't fear! You can still enjoy the novelty of watching a movie with an amazing view. Luna Park has just launched their pop-up rooftop cinema. Here you'll have an amazing, panoramic view of Sydney Harbour and the chance to watch some seriously-good films. If you're worried about wind or noisy roller coaster-goers, there are noise-cancelling headphones so you can watch the film in peace. There's also a rooftop bar so you can have a bite to eat and a glass of wine before you settle into a Matt Blatt chair and enjoy the movie. The cinema goes ahead regardless of the weather, even providing free ponchos should there be a bit of a drizzle!
Autumn Racing At Warwick Park
For 50 days over autumn, you can experience the excitement and fun of the Sydney Autumn Racing Carnival. There are four racecourses in Sydney; Royal Randwick, Rosehill Gardens, Canterbury Park and Warwick Farm. All of them offer different events throughout the season and whichever event you attend you're guaranteed a day of stellar racing and interesting fashion. One way to really enjoy the carnival is to use it as an opportunity for a staycation and a make a weekend, or a mid-week, mini-break of it. Warwick Farm is home the
William Inglis Hotel
at Riverside Stables which celebrates Australia's racing history and the thoroughbred industry. It gives you the chance to not only enjoy some trackside action but to immerse yourself in the racing culture. Not only can you enjoy the close proximity to the racecourse, you can learn a little something too. Best of all, there's a rooftop pool and bar which means that you can enjoy the last of the summer sunshine before winter well and truly hits.
The Book Of Mormon
The international,
award-winning comedy
has arrived on Australian shores. Written by the creators of South Park and Team America this funny and smart Broadway show has won Tonys, Olivier Awards, one Grammy and two Helpmanns since it debuted seven years ago. After a stint in Melbourne, it's now in Sydney with shows running from the end of February to September. Given the popularity of the play worldwide, seats are selling fast!
Sydney Writers' Festival
Sydney Writers Festival will launch on the last day of April at its new home in Carriageworks and run until the 6 May. This year the festival will explore power and its relationship to sex, money, politics, identity and the world. There is a great lineup of authors, talkers and thinkers like Andre Aciman, author of the novel Call Me By Your Name that inspired the Oscar-winning film of the same name. Other guests include Helen Garner, Julia Gillard and The Slap's Christos Tsiolkas. As well as talks, panels and speeches there are family-friendly events to attend and plenty of things happening around other parts of the city in honour of the festival.
Sydney Comedy Festival
If literature or current affairs aren't really your thing, then you might be more keen to attend some events during the Sydney Comedy Festival. Starting in the middle of April, the festival features local and international comedians and is the city's biggest comedy event of the year. The festival kicks off with the Sydney Comedy Festival Gala and during the festival, you can catch everything from stand-up comedy and improv to musicals and theatre performances to magic acts and kids comedy.